Despite Chengdu's largely flat terrain, the mountains surrounding the metropolis in southwest China's Sichuan Province have guided BUZZ/Büro Ziyu Zhuangdesign of the Chengdu VUE Resort. Located in the nature-centric mixed-use development of Tianfu Vanke City, the property, which will eventually add a residential component, is in constant dialogue with the landscape.
"The flowing form and layout, with the metaphorical meanings attached to it, allows for a constant connection with Shushan Mountain," says chief architect Ziyu Zhuang. From the Eastern philosophical point of view, mountains are not fixed points in the landscape, but natural forms that are constantly changing, turning into clouds that float across the sky and the earth. It is this poetic visual that informs the layout of the hotel along an east-west axis.
As guests pass bamboo trees and pools of water at the entrance, they take a path that loops around a lush interior courtyard. Mimicking the curves of the roof, the walkway is defined by walls and atriums that serve as viewfinders framing the surroundings. It organically merges interior and exterior, just as the use of brick and glass symbolizes the union of tradition and modernity.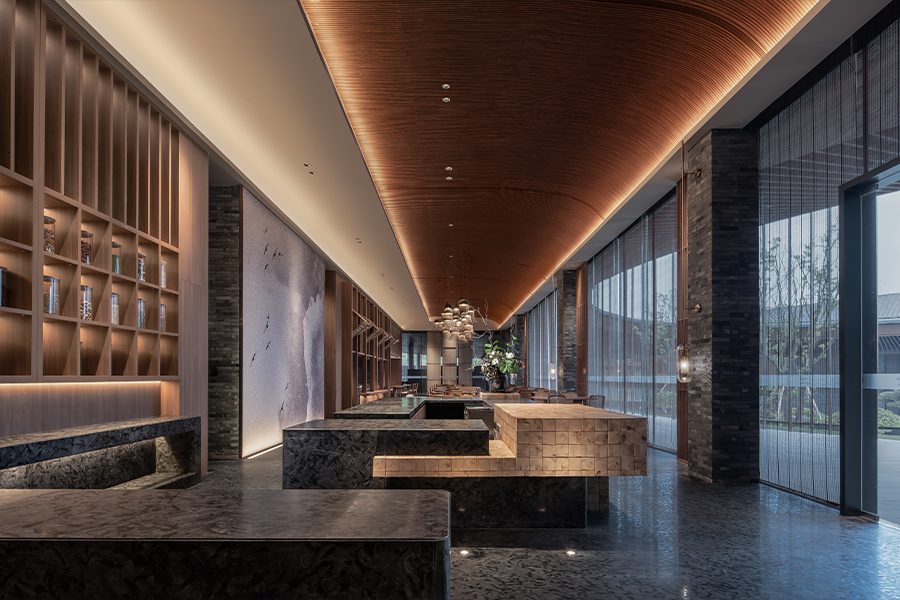 Chengdu VUE Resort was the winner in the category of high-end hotel public space projects at the 2021 HD Awards.
More HD:
The best new rooftop pools around the world
5 renovation projects are breathing new life into historic landmarks
What I Learned Podcast: Little Wing Lee